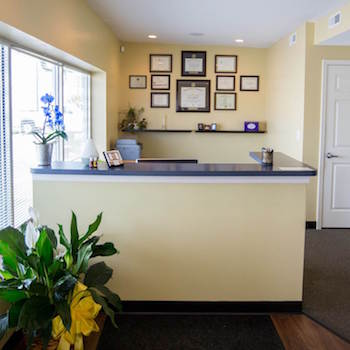 Information for New Patients
Welcome to Shepherdsville Chiropractic
At Shepherdsville Chiropractic, our office isn't like most doctors' offices, which sometimes feel cold and stressful. Instead, you'll feel at home from the moment you walk into our warm and inviting office after being greeted by our friendly receptionist.
We aim to treat you like family every step of the way!

Your First Visit
Upon arriving to our office and after completing your new patient paperwork, you'll move back to an exam room with Dr. Dahlkamp to begin your initial consultation – this includes a physical exam, full neurological and orthopedic assessment and X-ray's to help us determine the root cause of your issue. While your images develop, we may get you set up with soothing electrical stimulation therapy or have you lie on our spinal traction table to gently stretch your back.
After Dr. Dahlkamp reviews your X-rays with you, he will answer any questions you may have. Should he deem you a candidate for care, he can do your very first adjustment at this time. You can expect your first visit with us to last approximately 45 minutes to 1 hour.
We want you to know that your health is our top priority, and we will only recommend treatment with our practice if we strongly feel you're a qualified candidate for care. If for some reason Dr. Dahlkamp believes another therapy outside of chiropractic care could help you more, he'll recommend additional testing or lab work and refer you to another local physician.
Your Second Visit
We typically like to see new patients several times over the course of a few weeks to get you feeling better. During your second visit, we will discuss how you felt after your initial appointment and make any necessary changes in your treatment plan, while keeping your comfort a top priority. After your second adjustment, we may suggest at home stretches and exercises that you can do to aid in your healing process…this will ultimately improve the health of your spine and put you on the path toward a quicker recovery.
Ongoing Care with Shepherdsville Chiropractic
With chiropractic care, it's important to understand that each visit builds upon the last until we're able to get your spine and nervous system functioning as optimally as possible. Many patients at our practice find that they enjoy continuing care after their initial reason for coming has cleared up as it keeps them healthy and allows them to maintain their wellness.
Some patients visit us for an adjustment every week, while others feel best coming in every other month. The beauty of chiropractic care is that YOU get to determine how frequently or infrequently you visit our practice. You know your body best, and we encourage you to listen to it when determining what brings you overall health.
Discover How We Can Help
Ready to learn more about what chiropractic care can do for you and your family? Contact our practice today to book your first appointment. Same day appointment and walk-ins available.
We look forward to getting to know you and helping you heal!
---
Shepherdsville Chiropractic | (502) 543-2225